BT Drop Shot Blood 3.5″ (6 Cavity Mold) – Perfect Creature for Drop Shot and Ned Rig mounting.
Make your own fishing sticks, give them the color, smell, flavor and consistency you want to suit your favorite fishing scenario, and enjoy fishing with your own sticks made by yourself.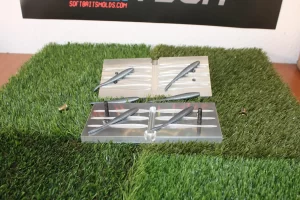 Our Drop shot Molds are machined in aluminum alloys of the highest quality to achieve brilliant finishes even in the smallest details.
All our Drop shot molds have an air expulsion system so that the vinyl is completely finished and free of air bubbles inside, with Metric 6 fasteners for correct pressure when injecting the plastisol.
The injection nozzles are designed for all types of injectors on the market, both European and American, since this type of injector has a standardized measurement.